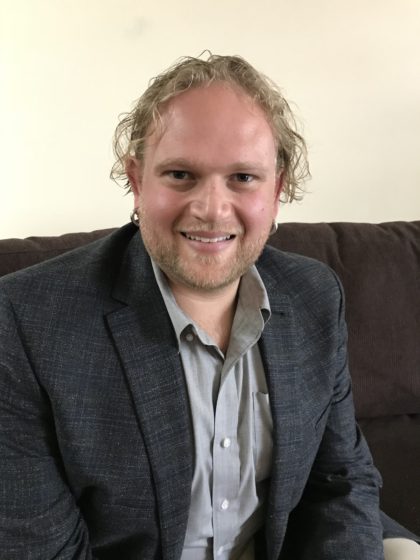 On September 9th at 10:30 AM, the Unitarian Universalist Congregation of Marin will welcome a new minister into the pulpit — Rev. Marcus Harlief.  Brought up in the Bay Area, Rev. Hartlief is a graduate of Starr King Seminary in Berkeley. He just returned from serving a congregation in Vancouver, British Columbia.  Prior to that, he served First Unitarian in Rochester, New York.
Rev. Hartlief is a dynamic speaker and storyteller who leads worship services that engage the head, heart, and spirit.  One focus of his ministry will be multiculturalism, rooted in the Unitarian Universalist vision of a justice-centered beloved community that finds strength and wholeness in embracing diversity. As a Millenial—a member of the least church-going generation in American history—he will also be seeking creative ways to support the congregation to meet the needs of youth and young adults.
His wife, Rev. Emily Hartlief, and one of his mothers are both Unitarian Universalist ministers. The Hartliefs have a two-year-old son, Henry.  In pursuing a call to ministry in Marin County, Rev. Hartlief follows in the footsteps of his grandfather, Rev. Dr. Henry Kuizenga, who served First Presbyterian of San Anselmo while he was a professor of homiletics at San Francisco Theological Seminary.
Unitarian Universalism is a liberal religion that promotes freedom of belief and respect for all people. Unitarian Universalists are united by shared values including tolerance, compassion and ongoing commitment to making the world a more humane and peaceful place. The Unitarian Universalist Congregation of Marin is at 240 Channing Way, San Rafael, CA 94903.