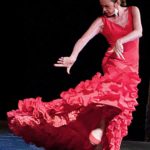 As spring enlivens the countryside, come join us in a special celebration with a wonderful Spanish inspired dinner. We will start with Tapas (small plates of delectables enjoyed in Spain with a glass of wine, sangria or sparkling water) and  follow it with a variety of Paellas. We will be entertained by a local flamenco dancer, Andrea La Canela. The evening will end with delicious Spanish desserts and a raffle.
Paella Fiesta
Saturday, March 23, 2019
6:00 to 8:30 pm
No host bar
Admission $45.00
Raffle tickets $5.00 or 5 for $20.00
Dinner will accommodate vegan as well as gluten-free diets.
For carb free and allergy needs, it is recommended to purchase a ticket ahead so that we will know how to best make the event special for you as well.
What are Tapas?
Tapas are basically Spanish appetizers, though one can make a whole meal from just tapas dishes. The name is derived from the Spanish word "to cover."

In pre-19th century Spain tapas were served by places offering meals and rooms for travelers. Since few innkeepers could write and few travelers read, inns offered their guests a sample of the dishes available, on a "tapa" a pot cover.

It is also thought the original tapas were thin slices of bread or meat which sherry drinkers in Andalusian taverns used to cover their glasses between sips. This was a practical measure meant to prevent fruit flies from hovering over the sweet sherry. The tapas eventually became as important as the sherry.

We will be serving a variety of tapas with plenty of selections for vegans and those on a gluten-free diet. There will also be tapas to please vegetarians, pescatarians, and carnivores. Omnivores will be especially pleased with the diversity.
What is Paella?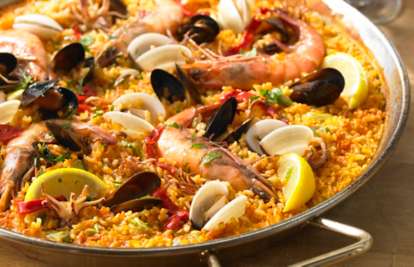 Paella is a rice dish from the region of Valencia. Types of paella include vegetable paella (paella de verduras), seafood paella (paella de mariscos), and mixed seafood and meat paella (paella mixta). It consists of white rice, green beans, lima beans or butter beans, and seasonings such as saffron, paprika, rosemary, and olive oil. Very common spring ingredients are artichokes and green garlic shoots.

In celebration of spring we will be serving a vegan paella de verduras, paella de  mariscos, and a chicken and chicken sausage paella de pollo. Enjoy one or sample them all. Upon request, we can also provide a paella mixta with riced cauliflower instead of rice.

The origin of Paella goes back centuries when the Moors in Muslim Spain began rice cultivation around the 10th century. Consequently, Valencians often made casseroles of rice, fish, and spices for family gatherings and religious feasts.

Afterward, it became customary for cooks to combine rice with vegetables, beans, and dry cod, providing an acceptable meal for Lent, the weeks preceding Easter.
Spring Festivals in Spain (Celebracion de Primavera)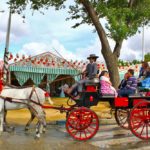 There are spring fire fiestas and other festivals that feature flamenco dancers. Our Paella Fiesta will certainly have candles, spring flowers, and include a local flamenco dancer for our entertainment that evening. You will not want to miss this colorful and fun-filled celebration of spring event. We look forward to having you join us.
Spring starts this year on March 20th. Similar to here, wildflowers dot the Spanish hillsides in March and invite folks to come together and revel in the season. There are several celebrations that occur in late March and early April. The most famous traditional festival is the Semana Santa or the Holy Week, that takes place right before Easter.  It is a time for families to come together and enjoy their favorite snacks as they parade around with their patron saint. Our celebration of spring, celebracion de primavera, will start with folks parading out tapas (small plates or snacks) as we enjoy time together over a glass of wine, sangria, or sparkling water libation of our choosing.