Room Descriptions and Facility Maps
At UUCM, you're sure to find a room (or a combination) that suits your needs!
Scroll down to see maps of our site, too.
A Room for Every Purpose
Included in all room rentals: Round and rectangular tables, plus chairs, are available for your use.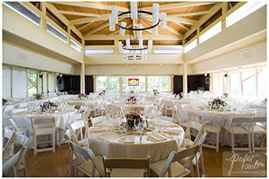 Fellowship Hall (2,268 sq. ft.): This most popular site for dining and dancing has a hardwood floor and picture windows on three sides, including one that overlooks Terra Linda and has an impressive Mt. Tamalpais view. Doors on one side of the room lead to a small brick-paved garden patio. The large kitchen is easily accessed from the other side of the room. The room accommodates 117-124 people seated and can be set up for dining, theater style, or informal "roundtable" discussions. A grand piano and sound system are available.
Fireside Room (912 sq. ft.): Recently remodeled, this room accommodates 50 people theater style, 40 banquet. It is warm and intimate, ideal for a small meeting or reception. The tall sandstone-faced fireplace is flanked by picture windows that look out on a dense oak woodland. The room has direct access to the courtyard and, in winter, a roaring fire makes the space especially inviting.
Kitchen: Our large kitchen is fully equipped with a professional six-burner gas stove and oven, two electric ovens, microwave, dishwasher and plenty of counter space. Supplies such as linens and dishes are not included. It is located adjacent to Fellowship Hall.
Wright Room (1,300 sq. ft.): Located on the lower floor with gorgeous views of Mt. Tamalpais and a balcony suitable for outdoor dining. The room accommodates 100 people and is equipped with a wet bar and refrigerator. This room is not wheelchair accessible.
Maps of the UUCM Facility