Worship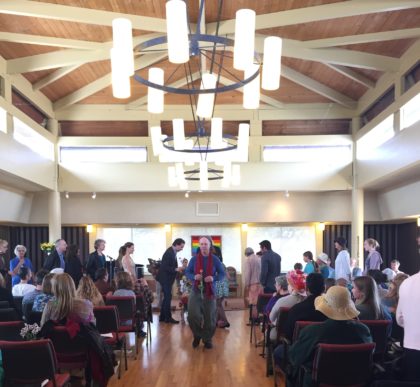 We gather together in spiritual community because we need constant reminders of what matters most in life. In a world of heartbreak and dehumanization, our congregations and communities call us to our better selves. We learn to live with more wisdom, more connection, and more compassion.
Our Worship Services are weekly reflections that weave together our own thoughts and experiences with music, beauty, poetry, and words that both comfort and challenge. Our programs for all ages inspire us, and awaken us to our capacities to make a difference in our own lives and in the world.
We offer two services each Sunday morning: a contemplative service, The Sunday Circle, from 9:00 to10:00, and a Traditional Service from 10:30 to 11:45.
We are inspired not just by religious sources but by the people with whom we journey: the diverse and spirited Unitarian Universalists.
Shared Ministry
At UUCM, we believe that ministry is the shared responsibility of every member, not just the Minister. Shared Ministry, an essential aspect of a successful congregation, is guided by the spirit of love and is exercised foremost by our own members. It is also a vital part of personal spiritual growth: We are all called to explore life's many paths to meaning; we depend on and care for each other; we each have unique gifts to share.
Shared ministry comes in many forms, depending on the UU congregation. Our shared ministry is demonstrated through the many opportunities we offer to serve one another and the world, such as our Religious Education, Worship Associates, Music, Partner Church, and Social Justice programs.
Worship Associates are trained lay leaders who participate in leading worship services. They participate in the service liturgy, help guest speakers prepare for worship, and offer reflections on the worship topic. In these reflections, they model a personal engagement with the theme in ways that help listeners do the same thing. Consider becoming a Worship Associate.