Grades Kindergarten to 6th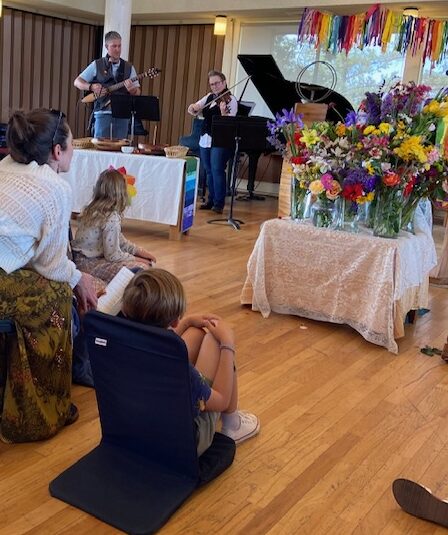 Children joining in the beginning of the service
We find the elementary school years an exciting time for exploring. Our Sunday morning programs offer enriching sessions that
explore questions,
practice UU values and traditions,
experience spiritual practices from a variety of faiths,
discover wonders in the natural world around us,
and engage in social action.
Sunday Morning Programs
Upcoming programs for September
Sunday September 10th Mabon (early celebration of the Autumal Equinox)
Before our return to Jewish high Holy days, we take this time to acknowledge the seasons are changing, and prepare for the fall equinox and it's lessons of balance at this time of year. Join us as we cast a circle honoring the animals, act out an Celtic story, and find the balance in giving of our abundance to animals on our hillside and the unhoused in our community.
Sunday September 17th Rosh Hashanah
After a short birthday celebration of the earth's birthday and the New Year "Rosh Hashanah" children preschool to 2nd grade will have an opportunity to partake in several Rosh Hashanah traditions. 3rd to 6th grade kids can choose either to explore further thru silk screen art and discussion, or join a role playing table top adventure game in the theme of Rosh Hashanah. These activities and adventures will go to 12:30 to give more time for artistic expression or role playing adventures.
Sunday September 24th Yom Kippur
As the the days of Awe are upon us, we prepare our hearts for being in a good covenant with those around us. Join us for a scavenger hunt for ingredients to a beloved Ashkenazi baked casserole and learn about the traditions of Yom Kippur.
General Sunday Morning Programs
This year, on most Sundays, we will then break into two groups: kindergarten to 2nd graders and 3rd to 6th graders.
The kindergartner to 2nd grader group will explore the theme further with age appropriate games, arts and crafts, interactive puppet shows, and short spiritual practice (e.g. body prayers, songs, meditation, social action project). They are also given time for free play together to encourage friendships.
The 3rd to 6th grade group will also explore the theme of the day further. On the first and third Sundays of the month, kids can choose either to explore further thru art and discussion, or join a role playing table top adventure game. These activities and adventures will go to noon. On the 2nd and 4th Sundays of the month, this age group will engage the theme with spiritual practice (e.g. prayer & songs from a variety of faith traditions, meditation, casting a circle) followed by discussion and an activity (e.g. social action project, arts & crafts, building or planting project on our grounds).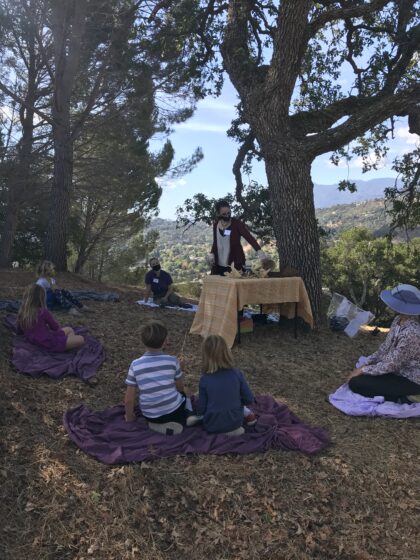 Cornucopia – Harvest Celebration
On some days we may be discovering the meaning and spiritual message behind a seasonal Holiday from the various traditions we share. On another day we may be learning how to be anti-racist. Throughout the year we share from the 8 principles and 5 resources of the Unitarian Universalist tradition. Each year we celebrate the Sabbats from the Wiccan tradition, the Jewish High Holy days, and share stories from the Indigenous people of our land.
In addition, this year we will give special attention to Shinto and Taoist Holidays and traditions, as well Holidays and teachings from Christian and Islamic communities. Since one of our resources is the guidance of reason and result of science, we will take time to explore the world around us through a scientific lens, as well as learn about Unitarian Universalists who made important contributions to science.
Mostly our programs for children are opportunities for them to experience living and learning to be leaders in a caring covenantal community. 
If you have a child in grades kindergarten to 6, come join us on Sunday mornings from 10:30 to 11:45 to see the community we are building. There are also family events throughout the year which you can find on our Family page. For more information and ways to engage, please reach out to:
Rev. Lynne, Director of Family Ministries, at revlynne@uumarin.org,
or Luka Coole, Youth Advisor, at Luka@uumarin.org
---
---